Goldfish Warning!: Annex – Usagi Ringo
27 June 2006 – GfW12 Annex: Usagi Ringo
Note in Our Fansub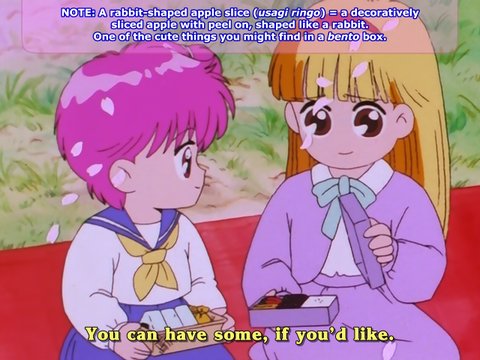 A rabbit-shaped apple slice (usagi ringo) = a decoratively sliced apple with peel on, shaped like a rabbit. One of the cute things you might find in a bento box.
Extended Explanation
This thing is usually called Usagi Ringo (うさぎりんご). Wapiko calls it Usa-chan no Ringo, a bit childishly.
It looks like this:

Recipe:
Prepare one apple, cut it into 6 (or 8 or 10) pieces without peeling, and remove the core (simply slice it off), as in this picture.
Make a V-shaped cut in the skin (peel), as in this picture.
Peel carefully the part you made the V-shaped cut, as in this picture. Peel a bit deeply so that this "rabbit's ears" part will have the thickness of about 2 mm (1∕10 inches), but don't peel it off (stop in the middle).
You can also use apple seeds to make "rabbit's eyes."
Before you put it in the bento box, soak it in water with a few drops of lemon (or slightly salted water) for a while. Otherwise, an apple will easily oxidized and get brownish (i.e. won't look beautiful when you open your bento).
---
---
If you have any questions (FAQ), comments,
or if you're interested in joining us fansubbing together,
feel free to visit us or email us at the following address. Thank you!



Also, you can leave comments on [AniDB], [Nyaa], or [BakaBT]
though we may not notice them immediately.

 Our website is Tor-friendly & JavaScript-free.